Kassandra
Kassandra, the westernmost prong of Halkidiki, is the most popular and populated of the three peninsulas. Luxurious hotels, water sport and non-stop entertainment is what visitors can enjoy. Hotels can be found in every price range. Tourists can enjoy the lovely traditional Greek tavernas, and the famous Greek nightlife in beautiful bars, nightclubs and music halls. Except for the natural beauty and the variety of facilities offered, tourists can admire a number of historical monuments, among them castles, monasteries and churches - testimony of the great civilizations that where hosted on the land. A number of the most popular holiday locations can be found in Kassandra. Nea Potidea, Sani, Aphytos, Kallithea, Kyopigi, Polychrono, Paliouri and Pefkohori are some of them.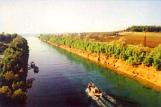 Nea Potidea is the first village of the Kassandra peninsula with an impressive bridge over the canal of Nea Potidea, which joins Thermaicos with Toroneos Gulf. It was constructed in the 1st century, but it took its present shape in 1930's. It is an area with significant historical background and features a number of remarkable sights like the ruins of a castle along with the monument of 1821's "Turmoil" and the church of Taxiarches.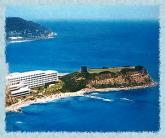 Sani, meanwhile, is known for its stunning beaches and awesome views. It is here that the Sani Festival takes place each summer between June and September, where one can take a seat at the natural amphitheatre on Sani hill, below a mediaeval tower and enjoy top-class Greek and international acts. Watersports enthusiasts can pick from a variety of activities that are held at the impressive beach, while those wanting to get a bit closer to nature can follow one of the walking paths marked by the Halkidiki Hotel Association.
Afitos is an impressive traditional settlement. Its numerous narrow side streets along with the traditional houses and tavernas compose a really impressive scene, which promotes a warm and friendly feeling. An example of the architectural styles unique to the region is the 19th century church of Agios Dimitrios. This little village is really beautiful: old stone houses with red tiled roofs, narrow streets connected with stone stairs, couple of art-stores, nice small restaurants serving fresh fish, a lot of flower bushes and green plants, all spiced up with the smell of figs. There is a small folklore museum on the square and couple of view points with a great view over the sea. Unfortunately, the beach in Afitos is not so great like in other places.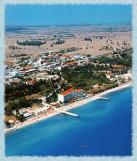 Possibly the most popular location for holidays in Halkidiki is Kallithea. Here you can enjoy a number of spotless, sandy beaches, a nice pedestrian area lined with shops and restaurants and interesting archaeological sites. Highlights include the remains of the 4th century BC temple of Zeus Ammon, with six Doric columns on its short side and eleven on its long, the sanctuary to Dionysous and the Nymphs, and the small chapel of Agios Panteleimon with nice murals. Kallithea is the most modern, commercial and cosmopolitan resort in Kassandra. Featuring all the necessary installations required for enjoyable and entertaining holidays, and blessed by its natural and historic heritage, Kallithea satisfies even the most discerning visitor and has a spectacular nightlife to prove it.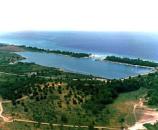 Hanioti is a small, but beautiful village. It features hotels with all the necessary facilities, numerous restaurants and traditional tavernas and manages to satisfy any need and taste. Siviri is an important cultural centre, and hosts the annual Kassandra Festival, which draws artists from both Greece and abroad. Pefkohori, with its impressive view of Sithonia, is considered an ecologist's paradise. Highlights of the area are the beautiful beaches along with the magnificent surroundings and the inhabitants' distinctive spirit of hospitality.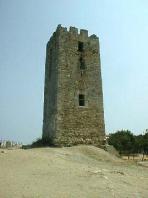 Nea Fokea is a charming fishing village known for its fish tavernas. The Tower, a remarkably preserved old Byzantine fortress which was build in 1407 is the main historical highlight. Right opposite of the main road, do not miss the tiny chapel Agiasma Apostolou Pavlou. The church is carved in a rock and there you will find stairs that take you to an underground tunnel inside the rock. The tunnel is quite low and at a certain point you may have to move kneeling. After a while you will be in a chapel carved inside the rock. There is nothing special inside, but it is certainly a nice experience. Tradition says that the Apostle Paul was teaching at Ierissos at the time when haunted, and with his life in danger, he went into a hole of the earth. Then, passing through an underground corridor, he came out in Nea Fokea, at a point where holy water ("agiasma") now appears.
The western coast is very different, it is towards open sea and rather less appealing. The villages (Siviri, Fourka, Posidi, Nea Skioni) do not seem quite interesting, except for Loutra and Paliouri, where there are exceptional views overlooking both coasts.