Geography
Halkidiki is located in the northern part of Greece, southeast of Thessaloniki - the country's second largest city - and it is shaped like Poseidon's trident with three prongs, the peninsulas of Kassandra, Sithonia and Mount Athos (Agion Oros), piercing the Aegean Sea to the south. The capital of Halkidiki is Poligiros.
Halkidiki covers an area of 2,945 sq. km. Due to the area's geomorphology, Halkidiki has the longest stretch of coastline in mainland Greece, estimated to be more than 500 km of sandy beaches and attractive bays. To the north of the coastal region, the country becomes mountainous. Mount Holomodas lies in the centre of the prefecture and Mount Athos in the east. Rivers are very few and those that exist are torrents. Its subsoil is rich in metals and minerals. According to the latest statistical data, Halkidiki has a population of about 110,000 inhabitants. Poligiros, its capital city, built amphitheatrically at the foot of Mt. Holomodas, is located in the centre of Halkidiki, 69 km east of Thessaloniki. The whole region is heavily wooded with pine, oak and olive trees, while inland there are vineyards and fertile farmlands.
Climate
The climate in Halkidiki is generally mild with limited rainfall and warm summer. It enjoys over 300 days of sunshine on average, annually. Average temperatures display limited fluctuations during the year. The lowest temperatures occur from December to February, ranging between 3.5 degC to 19 degC, while the highest occur during the summer months and range between 23 degC and 34 degC.
Halkidiki as a tourist destination
Halkidiki has greatly been developed during the last decades and is an ideal tourist destination. During the period 1968-1975 large tourist complexes were built, and other forms of enterprises and ancillary services were developed. Tour operators started promoting "Greece's secret paradise", an unspoiled primitive destination, different from the well-known and already saturated Greek islands. As a result, tourist arrivals increased rapidly. Nevertheless, Halkidiki did not lose its character. Throughout, an effort has been made to develop tourist infrastructure and facilities that co-exist smoothly with the natural surroundings. Rational tourism planning prevented environmental deterioration and entrepreneurs tried to make their resorts as appealing and ecologically sound, as possible. The north of Halkidiki is a quiet and delightful hilly region, often overlooked by those whose main interests are the beaches to the south. Nowadays, Halkidiki offers an excellent choice for a relaxing holiday: sunny golden beaches, deep and picturesque gulfs, traditional villages and modern tourist resorts, small islands and sheltered bays, rich history, cultural heritage, Mediterranean climate and warm people.
Every year, Halkidiki receives the greatest number of "blue flags" in Greece, from the European Union, for the cleanest beaches. Moreover, accommodation ranges from small, clean traditional lodgings to large luxury hotel complexes. It also offers visitors many opportunities to enjoy their favourite sports: golf, sailing, yachting, fishing, mountain climbing and trekking. In summertime, several cultural events take place at the festivals of Kassandra and Sani. No matter where you go, Halkidiki cannot fail to please you.
Kassandra
Kassandra, the westernmost prong of Halkidiki, is the main touristic area. Tourism is mainly concentrated on the eastern coast and around 40% of the visitors are Greeks. It makes for a very lively season during weekends and main holiday periods April till October, with a real Greek atmosphere, but the beaches in particular are relatively quiet during other periods, especially on weekdays. During the high season, the busiest nightlife centre is Kallithea, a village with a good range of discos, bars and tavernas and there are incredible scenes of Saturday-night traffic jams that can last until 2 AM. Elsewhere, nightlife is more subdued and most hotels feature in-house discos and entertainment programmes if that's what you are looking for.
The only problem with all the villages in Kassandra is that there is not much to be done here besides swimming and sunbathing. Almost all the villages have nowdays lost their charm and have turned into big resorts lined with villas and hotels. The centre of all of them is lined with restaurants and small shops selling nothing else but souvenirs.
Petralona Cave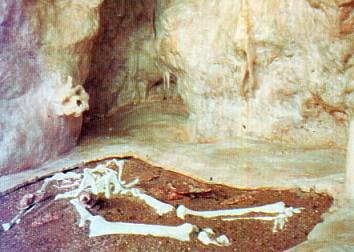 Most kids love being underground and this fascinating cave, located along the western foothills of Mount Katsika, is a nice place to visit. This cave is one of the most important in terms of paleontological interest, and offers a natural spectacle of "stalactites and stalagmites", coral-like formations in all shapes and forms. It was studied in 1960 by research groups from the University of Thessaloniki when Europe's oldest human skull was found; it has been estimated that it is about a quarter-million years old and scientists have found evidence that man-made fires were lit there around 700,000 years ago. The skull belongs to the archaic Homo Sapiens (subsequent to Homo Erectus and previous to Homo Neanderthal). A museum containing finds from the cave is located next door, but the skull itself and other more important finds are housed in the Palaeontology Department of the University of Thessaloniki.
Sithonia
The second sub-peninsula of Halkidiki offers similar natural beauty with fine sandy beaches, picturesque small harbours, peaceful hamlets and wooded areas. Sithonia manages to combine traditional beauty and hospitality with contemporary pleasures.
Holy Mount of Athos
The easternmost of the three sub-peninsulas of Halkidiki is Mount Athos, which is also known as Agio Oros (Holy Mountain) and is inhabited by Orthodox monks. It has a characteristic morphology, dominates the North Aegean Sea and has been a reference point for sailors since ancient times.
Mountain scenery on one hand and the sea on the other create an essential framework of isolation in a different, strange world chosen by the hermits for their monastic state. Athos has become well known all over the world both as a distant place and a name that has remained unchanged since the prehistoric period. According to the Greek mythology, Mount Athos was named after the Giant Athos, who lifted and threw a whole mountain, as if it were a small stone, against the gods. The surprisingly rich biodiversity of Agio Oros is due to the wide variety of its climate and geological formations. There is a great number of endemic plants as a result of the isolation of the peninsula and the absence of grazing animals in the area throughout the centuries.
The first historical account on the existence of monks in Mount Athos dates back to the first half of the 9th century. Amazingly, due to an edict dating back to 1060, women are not allowed to visit the monastic state. Many famous personalities have visited the Orthodox monastic enclave of Mount Athos, including Edward Lear, Rasputin, Prince Charles, Russian president Vladimir Putin and innumerable Byzantine ex-emperors. There is much conjecture over what is it that unites these men in their desire to visit the Holy Mountain; could it be the peace, the beauty, the icons, is it the chance to meet some interesting hermits, or perhaps it is because Mount Athos is the world's only place where you are guaranteed not to meet any women?!
Links